Celebrating over 30 years of developing after school chess programs in the greater NY area.
New! In-Person Small Group Chess Classes
Group Classes for Beginner & Advanced Run Through Oct. 9th - Dec. 20th
Tri-State Chess is now offering small group classes IN PERSON at  THE CHESS EXCHANGE: 325 East 88th Street New York, NY 10128.
Groups of only 4-6 students to facilitate personalized focus and attention on your young and budding chess player.
Class time is divided into 2 halves, Instruction and supervised play.
Chess related prizes will be given out during the instructional portion of the class and trophies will be awarded to all who complete the 10 week trimester.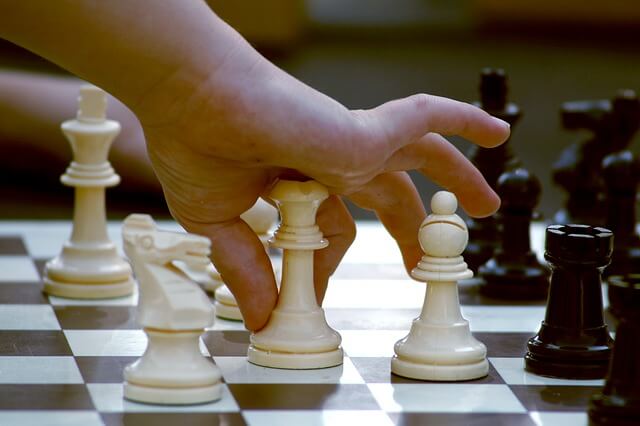 Beginner Classes – Mondays after school
October 18, 25 | Nov 1, 8, 15, 22, 29 | Dec 6, 13, 20
10 week trimester $475
Grades K-1 - 3:45-4:45pm
Grades 2-3 - 5:00-6:00pm
Grades 4+ - 6:15-7:15pm
Intermediate/Advanced Classes – Saturdays
October 9, 16, 23, 30 | Nov 6, 13, 20 | Dec 4, 11, 18
10 week trimester $595
Grades K-3 - 9:00-10:30am
All ages - 10:45-12:15 Rated over 900-1300
After School Chess in Schools
Class length is typically 90 minutes and is divided into 2 halves, with classes as short as 60 minutes for the youngest students.
In the first half, the instructor uses the demonstration board to teach ideas and show games. The students are encouraged to participate by asking and answering questions and a point system is established to help engage the students. Students earn points for good sportsmanship, participation and correct answers.
During the 2nd half of the class, the students are playing chess with opponents assigned by the instructor. While games are in progress, the instructor will supervise and offer helpful hints and ideas.
Points can also be earned during the playing time by using any ideas from the lesson in the actual game. Small tournaments are also organized within the classroom setting. At the end of each semester, trophies are awarded to all participants in the program. Since the parents pay for the program directly and the equipment is provided by Tri-State Chess, there is no cost to the school whatsoever.
The school develops a chess team which will represent them at the local, state and National tournaments! Tri-State Chess encourages the students to participate in our monthly scholastic Chess Championship tournaments which are held in different schools in which we have established a chess presence. Team prizes are also awarded to increase the feeling of camaraderie amongst the players.
Advanced Chess Tournament Entries
Register Online and your entry will appear automatically on our Advanced entries page! Players will see in advance which players are competing in a specific tournament & the schools they are from.  
Tournaments at Bryant Park are divided into 7 sections based upon age and strength.  Players can play "up" into any section.  The top section includes Adults and offers Cash prizes.  Trophies, plaques and medals to all others.
Providing students chess activities throughout the summer months in the NY area. Contact Us for more details and schedule for next Summer.
One of the best ways to improve your game is to bring the score of your tournament games to your chess coach & have them analyze the game with you.
"Developing Great Thinkers..."