STORE
Sale!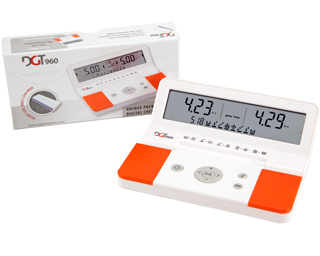 DGT 960
A unique pocket size digital chess clock. Pocket size, only 2,3 cm (9/10 inches) high.
The revolutionary foldable DGT 960 chess clock can easily generate one of the 960 starting positions for the new way to play Chess.
The first chess clock that automatically and at random will generate 960 starting positions. The display shows symbols indicating in which position the pieces have to be placed on the board. It brings many chess-lovers back to the chessboard.
The aspect of having a lead through knowledge of theory about chess opening moves sequences makes way for creative thinking.
This idea of late World champion Bobby Fischer, has been the most important improvement in chess since 500 years. This chess clock is a gadget that every chess player would wish to have.
Revolutionary and unique foldable clock design
Big display for easy viewing
Easy of use and programming made extremely easy
Bonus time and delay included
Chess960 starting randomizer
Game Timer (Count down) – up to 9 hrs 59 minutes for the full game (Chess, Checkers, Draughts, Go, Scrabble®)
six languages user manual: English, German, French, Dutch, Russian, Spanish
Additional Information
| | |
| --- | --- |
| Weight | 1 lbs |
| Dimensions | 5 x 1 x .25 in |