1010
true
dots
bottomright
210
true
false
800
http://tristatechess.com/wp-content/plugins/thethe-image-slider/style/skins/frame-black
Home
Our organization is designed to promote the great game of chess, most notably on the scholastic level. We offer the opportunity for elementary and junior high/high schools to develop and/or improve their after school chess programs, by placing well trained and experienced chess coaches and providing interactive and challenging chess lessons.Once these students reach a certain level of chess playing proficiency, a chess team is created which will represent the school in scholastic chess tournaments.Aside from supplying the chess sets and boards necessary to sustain the program, we also have a large chess store where you can purchase chess books, software, chess pieces and boards as well as chess clocks. You can also shop in person at our bricks and mortar chess store at 325 East 88th Street in Manhattan where we sell all of this chess equipment and more.We organize monthly scholastic chess tournaments within the Greater NY area where the students can practice their skills and earn huge trophy prizes. Our awards are the most plentiful and the largest on the circuit because we produce them in-house and offer you the opportunity to purchase these chess trophies and plaques at a discounted price.
"Book Sale of the Month"

50% off

Was $39.95 now $19.95

The Ultimate Fischer Collection! The Chess Publishing Event of the Decade! The years after the Second World War saw international chess dominated by the Soviets Botvinnik, Smyslov, Tal, Petrosian and then Spassky held the world crown, treating it as if it were almost an integral part of their country s heritage. There were occasional flashes of brilliance in the West Reshevsky, Najdorf, and later Larsen but no one really mounted a serious challenge to the Russian hegemony. Then, in the mid-1950s, a lone genius from Brooklyn emerged. Obsessed with chess, all his waking hours became devoted to finding truth on the 64 squares. It was an unrelenting, sometimes frustrating quest, but he persevered, eventually emerging as perhaps the greatest natural chess talent ever. It was clear from his early years as a gifted prodigy through his stormy ascent of the Chess Olympus, no one had ever rocked the chess world quite like Bobby Fischer. His raw genius for the royal game, combined with an indefatigable will to win, made him one of the most feared chessplayers of all time a genuine living legend. Now, for the first time, every single one of his tournament and match games is presented with insightful explanations and analysis. Best-selling chess author, German International Grandmaster Karsten Muller, annotates each game of the player many believe to be the greatest of all time. All 736 serious tournament games are supplemented by crosstables of every major tournament and match in which Fischer participated, dozens of archival photographs, along with brief comments and observations putting the play of the great champion into historical perspective.

GET IT NOW

"Chess Equipment Sale of the Month"


Saitek Competition Pro Game Clock
Price: $59.95

This clock is no longer being produced by Saitek…While quantities last.


Saitek's new Competition Pro game clock is the clock you can rely on. Rugged enough for the heavy handed and advanced enough to have many timing features, this clock will meet your requirements. Suitable for a variety of games, from competitive chess matches to family games of Scrabble. Sleek and stylish, the large LCD screens display remaining time accurate to the second, as well as countdown and move features, etc. Simple controls offer 25 timer modes (including 3 user-programmable modes); Hourglass, Blitz, FIDE/ECU/Traditional Tournament, Fischer, Bronstein, Delay and Word Modes.

GET IT NOW
10 big brain benefits of playing chess
Not for nothing is chess known as "the game of kings." No doubt the rulers of empires and kingdoms saw in the game fitting practice for the strategizing and forecasting they themselves were required to do when dealing with other monarchs and challengers. As we learn more about the brain, some are beginning to push for chess to be reintroduced as a tool in the public's education. With benefits like these, they have a strong case.
Read More
YOU MAKE THE CALL
By Mark Kurtzman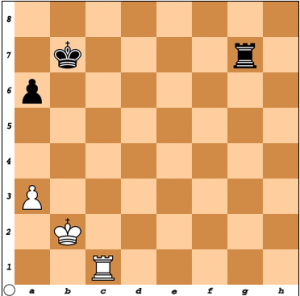 In the diagram below, the game appears drawn. In almost all cases, when serious tournament players compete, they agree to a draw when there are no winning chances.
In this game, however, it was the final round of an important championship tournament. And there was a lot of prize money at stake…$7,600 to the winner!
Everything seems equal, except White had 1 minute left on the clock in sudden death and black had almost 2 minutes.Read more
Tri-State Prez meets former World Champion Garry Kasparov!
Chess and Politics make a great combination!